January is all about planning. Content planning. Budget planning. Staff planning. You're in the middle of structuring your whole year — all while, you know, juggling your regular workload.
One thing that's often overlooked, however, is planning for better communication. How will you be more organized and efficient when sharing digital assets? How will you make collaboration with your colleagues easier for all parties? And how will you streamline communications so that everyone maximizes their time?
On average marketers waste 62.5 hours annually searching for brand assets. I think we can all agree that's too much time. So, how can you reclaim this time and enjoy more fruitful collaboration with your colleagues? With the right Digital Asset Management (DAM) platform, of course. Here are a few Brandfolder features that lead to better communication.
1. Asset Usage
Sometimes you want to make sure the right assets are in the right place within your Brandfolder. Other times you want to tell someone where that new brand video is stored. And still other times, you just want to see that the correct assets have been used in your most recent campaign.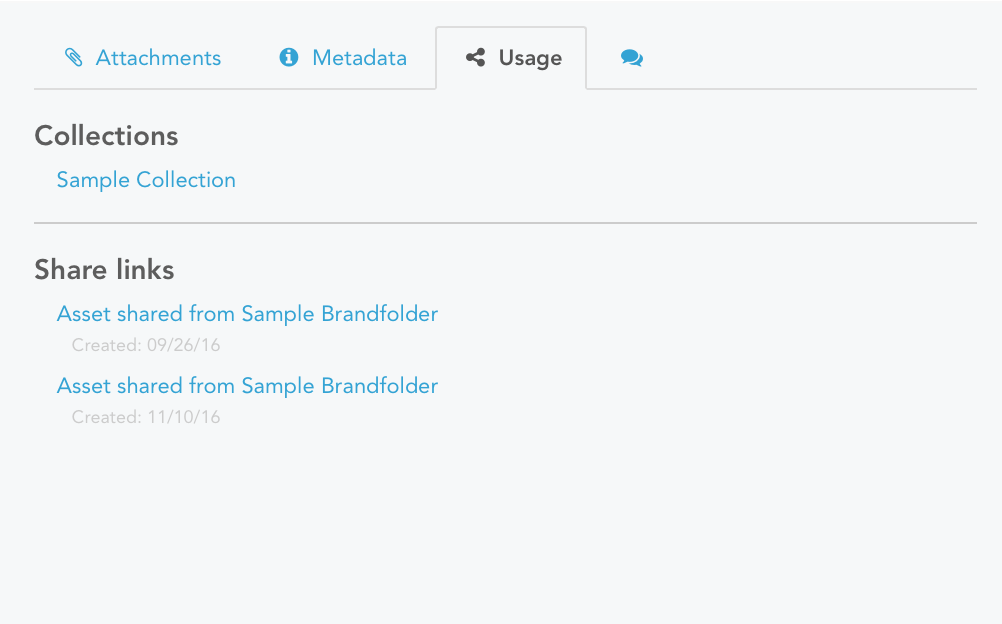 Brandfolder's Asset Usage feature is the answer to each of these scenarios. It allows users to quick-view what Collections and Share Links an asset has been added to. From there, you can click to visit the collection or share link. Yep, it's that easy to see how your assets are being used. This feature leads to better communication with colleagues by saving you from unnecessary back-and-forth emails to find out who shared what and where.
2. Managing Shares
If you're an Admin/Owner of your Brandfolder, you can view all share links that have been generated for your Brandfolder. This means you know exactly what assets have sharing links created for them, when they were created, when those links expire (if you'd like certain users to have temporary access to assets), and who those links are being shared with.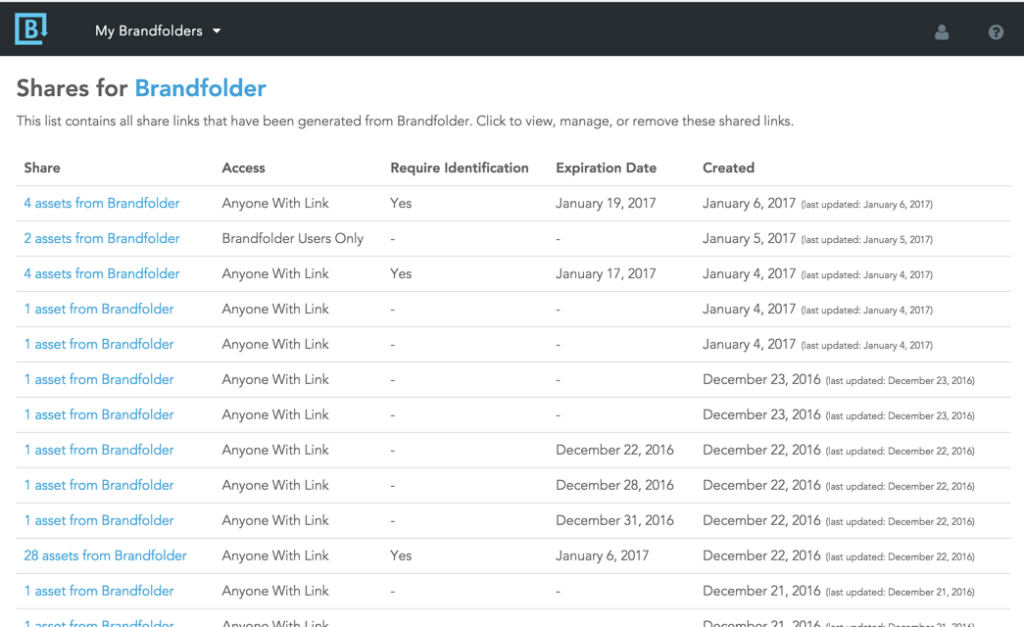 This feature also allows you to click on a share and go to the share page. From there, admins or owners can manage the share, which includes editing the expiration date, requiring identification, and even switching an asset to internal access only. Want to delete a share? You can do that too. This feature allows you to manage sharing settings without having to reach out to colleagues to find out which assets they have access to, or which assets have been shared externally. You have access to all of that information with a simple click, and you have the power to adjust sharing settings as you see fit.
3. Collections
OK, so these have been around for a while, but are you using them? I mean, really using them? Because they'll change your life and revolutionize the way you collaborate. It should be the first thing you implement in your Brandfolder for better communication. Here's a little "Collections 101."
First, let's define what a collection is. Collections allow you to organize subsets within your Brandfolder. House audience or campaign-specific content in a Collection within your larger Brandfolder, or use Collections to store different brands within your parent company. Vermont Hard Cider uses Brandfolder Collections to house seven brands and counting (psst! more on that in this case study).
How do I know when my brand needs a collection? Here are a few ways they benefit you and your company:
Provide the right assets to the right audience: Allow certain people to be able to access a subset of your Brandfolder, or hide assets from certain Brandfolder users. This ensures that users see only what's pertinent to them.
Allow for further organization of your Brandfolder: Organize groups of assets across sections for press releases, marketing campaigns, or audiences.
Control who can see what: Make some assets of your Brandfolder public, while keeping the rest of your Brandfolder private.
Embed a subset of your Brandfolder: Showcase some assets of your Brandfolder on your website, while hiding the rest.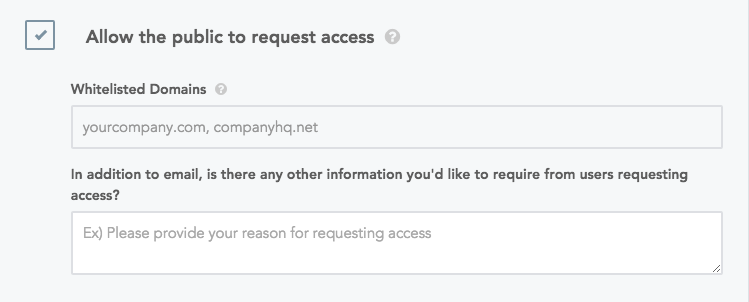 What you can do once you've created a Collection:
Add a header image to your Collections
Manage users on specific Collections
Require users to request access to Collections
Whitelist domain emails (This means that your Collection will automatically approve email addresses within your company's domain)
Create a simple password for your Collection
Create taglines for Collections
Create Pinned Tags (This allows you to pin specific search words to the top of your Collections, making them easily searchable)
Add assets to multiple Collections
Get an embed code to embed your Collection on a website
Make bulk actions on assets: tag, move, share, download, remove
Edit assets (Edits on Collection Assets will be reflected wherever the asset exists, whether in your Brandfolder or in other Collections.)
You can learn more about how to set up Collections here.
Want to learn why Brandfolder is #1 in customer satisfaction, speed of ROI, and ease of implementation? Check out G2 Crowd's 2017 Report.
Source link