[ad_1]
You may have heard us say this before: Brandfolder is platform for creatives, by creatives. What we mean by this is simple — we're passionate about satisfying the needs of our users, many of whom are the world's most talented designers, brand managers, and creative directors. Whether you need to share a logo or manage an entire rebrand, Brandfolder is committed to creating the most powerfully simple, user-friendly DAM — a platform that truly allows creatives to thrive.
Today, we're sharing seven ways Brandfolder can help creatives focus on what they do best. Some of these are brand new, like our latest plug-in for Adobe Photoshop, and others are Brandfolder best practices you may have not known about.
1. Brandfolder for Adobe Photoshop
We recently announced the Brandfolder plug-ins for Illustrator and InDesign — the easiest, most seamless way to access Brandfolder assets directly from your Adobe applications. Today, we're excited to announce that we've completed the Creative Cloud trifecta (cue the dramatic music) with the Brandfolder plug-in for Adobe Photoshop! Now, you can drag and drop Brandfolder assets directly from Photoshop, saving you time and keeping you in your creative flow.
Brandfolder customers can try out the plug-in free for 30 days! Visit our Adobe landing page to get started. Or catch it live in action below.
2. Track asset changes with our new "Follows" feature
Stay up-to-date with your favorite assets by following them. Once an asset is followed, you'll receive an immediate email notification when there is a change to a major field on the asset. What's even better? Users without a Brandfolder account can also follow assets they are able to access. This means streamlined communication for both employees and external partners.
To get this feature for your Brandfolder, please contact us at: sales@brandfolder.com.
3. Toggle between assets using left and right arrow keys
Now that we've got the big updates out of the way, let's talk about some tricks we've got up our sleeves. Up first: you can now use your left and right arrow keys to move between opened assets in your Brandfolder. Instead of clicking out of an asset and clicking back into a new one, simply scroll through asset details with your arrow keys.
4. Download your Brandfolder color palette into Adobe applications
Need an easy way to ensure designs are on-brand? We've got you covered. Brandfolder allows you to download your color palette, eliminating the need to request, send, or individually add specific brand colors. Here's how it works:
Inside a Brandfolder, head to the colors sections and select any number of colors you'd like to work with.

Select Download from the Bulk Actions menu. Then, check the directory on your local machine where downloaded files export. You should see a .ASE and .CSS file within the colors subdirectory.

Selected colors will appear in your Adobe program as so: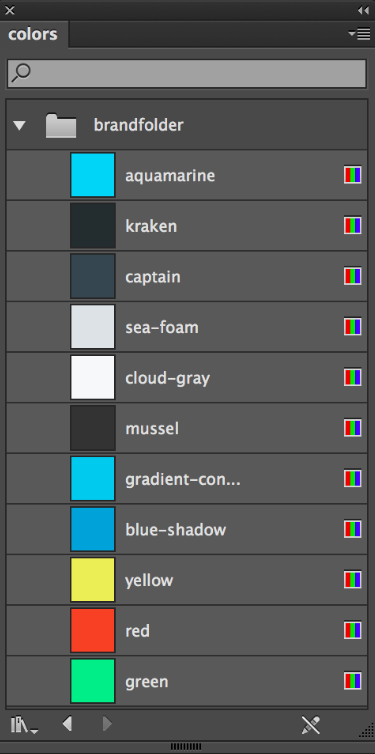 Voila! Wasn't that easy?
5. Asset resize and conversion
Ever get a request like this?
"Hey Kat! Can I get your logo in a PNG file instead of a JPG?"
If you're a marketer or designer, it likely happens at least once a week. Luckily, Brandfolder can convert and resize assets for you, so you don't have to waste time manually manipulating files. This feature is available under the "more options" icon on the individual Brandfolder asset.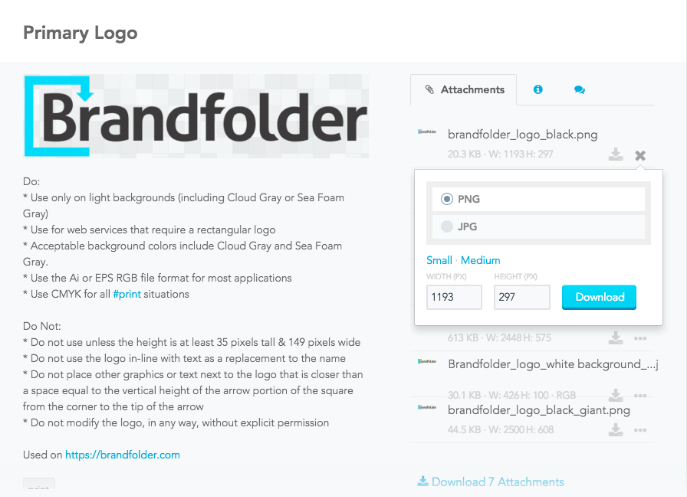 6. Customize your Brandfolder with a theme
Even your Brandfolder itself can be on-brand with a few finishing touches. Add a custom header image and color bar to distinguish your Brandfolder from the rest. To add a header image, simply click on the gear icon in the top right corner of your Brandfolder and select "basic settings." Then, upload your desired image into the header image. We recommend using an image that's 1920 x 480 pixels.
Your custom color bar is the horizontal line just below your brand's social links. Once you upload at least two colors to your Brandfolder, the first two will automatically render as a left-to-right gradient color bar.
With a header image and a branded color bar, your Brandfolder will be updated with a sleek, elegant brand theme.
7. Collections
Last but not least, a great way for creatives to make the most out of Brandfolder is to use Collections. Collections can be used in so many versatile ways, including: granting select audiences access to certain assets, managing specific creative campaigns, or publicly embedding a subset of your Brandfolder.
If you find yourself sharing your work with specific groups of people, or managing multiple different projects at once, consider implementing Collections in your Brandfolder for better organization.
Learn more about Collections here.
Want to learn about the many other ways Brandfolder caters to creatives? We'd love to chat with you! Just click on the banner below to get in touch.
[ad_2]
Source link