[ad_1]
Around this time of year, Salvation Army workers start ringing their collection bells, jingling us out of autopilot mode and reminding us to give back. Holiday cheer kicks in and we ramp up our kind gestures to those around us.
There's a reason this cheer is so catchy — studies show that that being generous can actually make you a happier and healthier person. Doing good does you good, and since psychology and marketing are so closely linked, this core tenet can also be true for your brand.
Being generous can leave a lasting impression on anyone who comes in contact with your brand, potentially opening up your company to new opportunities.
Here are three ways you can start boosting your brand's dopamine. We'll also lay out why brands that give back enjoy longer, happier lives!
1. Get personal
Any etiquette expert will stress the importance of a handwritten thank you note. It shows the recipient you took the time to compose something thoughtful – and it's just good manners. Unless your company health insurance covers carpal tunnel, you likely won't be handwriting correspondence to your entire customer base any time soon. However, you can employ the same sentiments in your outreach, and many companies are already exploring creative ways to make their customers feel appreciated.
Los Angeles-based cosmetics company ColourPop specializes in affordable beauty products for the YouTube generation. To appeal to their young and trendy demographic, ColourPop includes a printed note card with a cutesy, confidence-boosting message or pop-culture reference inside each order. This simple gesture adds a cheeky touch to the purchase and reaffirms the accessibility and inclusivity of ColourPop's products.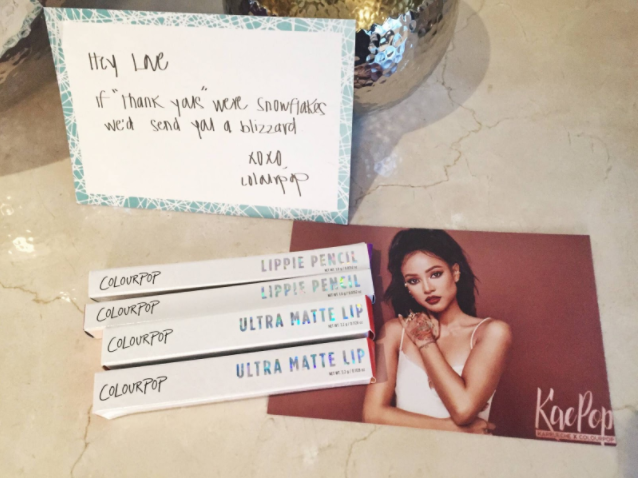 AT&T has developed out an entire benefits program to reward customer loyalty (AT&T Thanks), but smaller brands should note the personalized attention the service provider uses on social media. AT&T tracks new and satisfied customers on Twitter, and responds to their positive feedback with popular gifs and memes. If your brand has a strong social media following, using your platforms to show extra attention to customers can further engage them. AT&T's responses demonstrate that they're listening to customers, and they add levity to the often frustrating experience of obtaining phone service.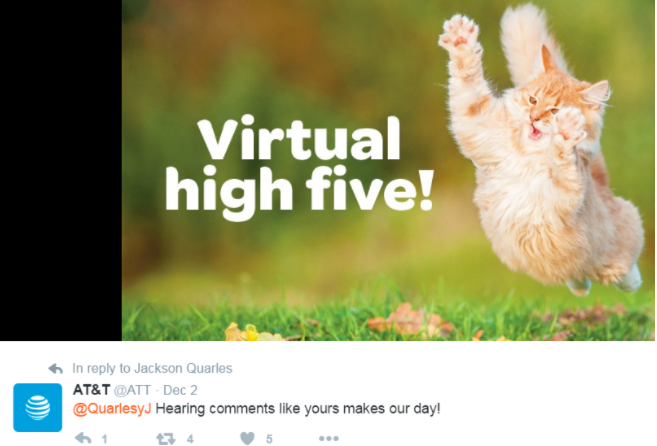 Your brand can also experiment with personal touches by capitalizing on specific days or important milestones. JetBlue airlines send customers a birthday greeting to thank them for their business — no gimmicks attached. Victoria's Secret has long upped the ante by offering customers a $10 coupon during their birthday month. This strategy has inspired smaller companies, including healthy food chain sweetgreen, to follow suit.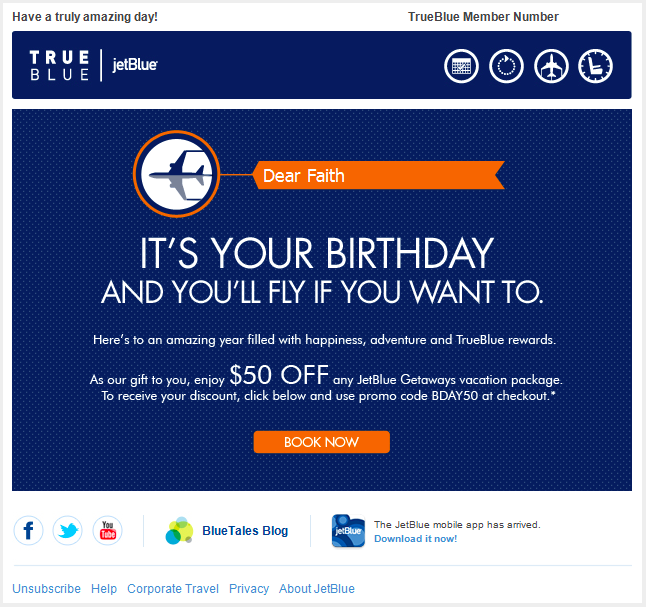 What this means for you
Are there certain customers who have been with your company since the very beginning? Honor their anniversary with a targeted email or special offer. Thanksgiving is always a popular time for brands that give back to express gratitude for their customers, but it's hard to be too generous when it comes to customer appreciation. Finding unique ways to acknowledge customers throughout the year will ensure they stay customers.
2. Give what you've got
Outdoor retailer REI shocked the advertising world last year when it announced it'd be skipping out on offering notorious Black Friday deals to customers. Instead, its #OptOutside campaign encouraged consumers to enjoy the outdoors, promoting awareness about environmental and public health in lieu of earning profit. REI's bold move inspired other brands to follow suit. This year, for example, fellow outdoor outfitter Patagonia donated 100% of its Black Friday profits — roughly $10 million in sales — to underfunded environmental groups. Both companies received high praise from the ad industry, as well as their customer bases, effectively tapping into the idea that what your brand can be more powerful than what it earns.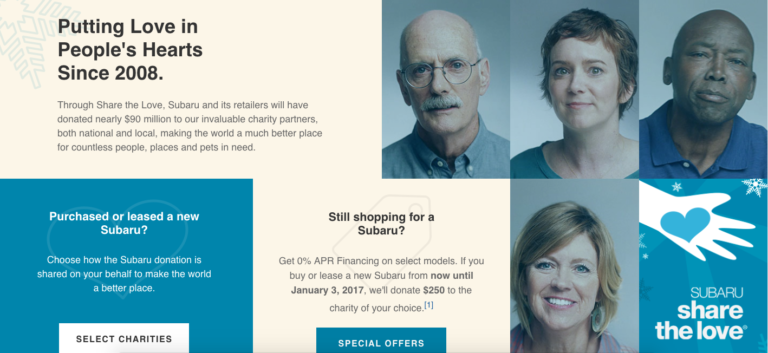 Other brands have permanently woven generosity into their marketing strategies. Since 2008, Subaru has partnered with charities like Make-a-Wish and the ASPCA on its Share the Love campaign. A portion of every customer's car purchase can be put toward the participating charity of their choice, reinforcing Subaru's promise to make a positive impact on the world. Last year, Target celebrated $1 million given to local and national education efforts over the course of its social responsibility program.
What this means for you
Large companies can afford grand gestures like these, but your brand can also feel the effects of generosity without going broke. Consider donating a percentage of proceeds to a like-minded organization over the holidays, or mobilize your employees to volunteer at a charity in need and document the outing. You can also give an in-kind gift to an organization that would benefit from your brand's product or service and could not afford it otherwise.
This year Brandfolder partnered with Taxi to sponsor a holiday toy drive on campus. Together, we were able to amplify the message, garner more participants, and give back a little more to our community.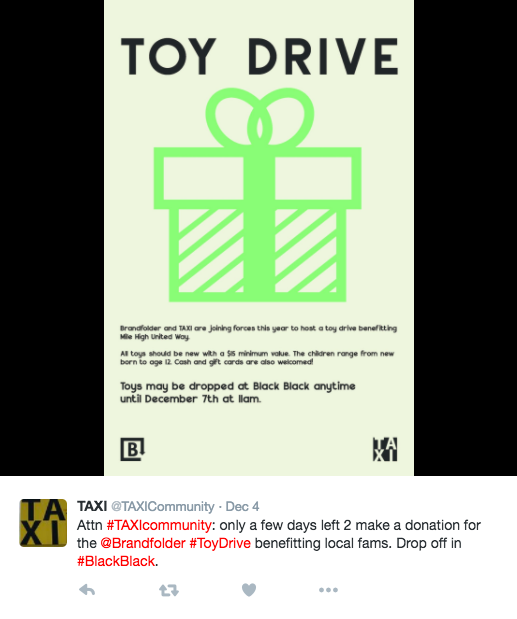 3. Cross-promote and collaborate
So maybe you don't have the budget to give away an entire suite of services or the staff to help you segment customer data by birthday month. But you do have a platform where your customers find and continue to engage with you. And when it comes to being generous, your platform is prime real estate.
Instagram and YouTube have spawned new revenue streams as brands have begun to partner with "influencers" who use their channels to market sponsored content to their many followers. Your brand doesn't have to fund the next social media star, but it can take a hint from what makes these sponsorships so successful: the shoutout.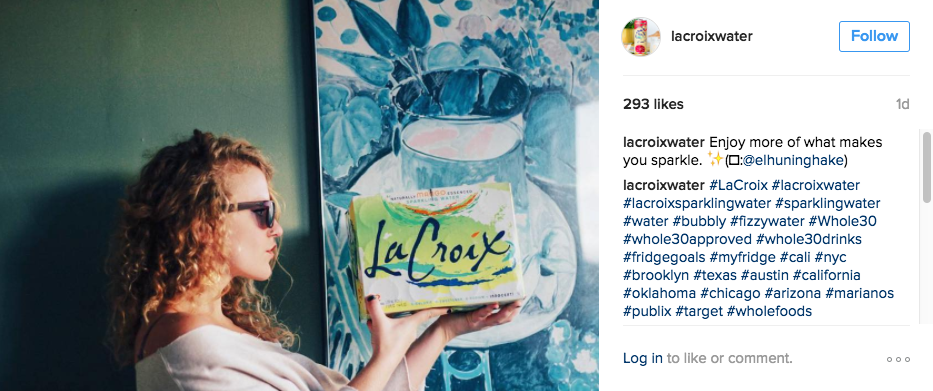 Were you really impressed by the restaurant that hosted your holiday party? Did the local print shop near your office create an eye-catching business card? How about that company you follow that just produced a thoughtful viral video? Use your social media or preferred channel to acknowledge other brands on a job well done. Any tag or recognition is an opportunity to reach new people and potential customers, and to strengthen a relationship with the company whose work you admire.
What this means for you
Consider partnering with another company to produce an email blast or video spot you think your customers would all enjoy. Offer to write a blog for a company in a similar industry that shares your values, or offer space on your blog to a small brand that could use a boost. Both options can open up your brand to new audience members with just a little time and effort.
That's a (gift) wrap
There are many ways to demonstrate that your brand cares, and the possibilities are endless for creative ways to make an impact. No matter what approach you try, it's most important that customers find your outreach genuine. Actions that reinforce your brand's mission and values will resonate with people — that's why they're your customers in the first place. Growing a successful company takes time, but brands that give back to those who have helped them along the way can be set up for a healthy, happy life.
[ad_2]
Source link