[ad_1]
You might have heard: Yahoo! announced they will be updating their logo September 5th. Except really, they're updating their logo today, and tomorrow, and the next day. Every day, in fact, up until THE DAY, we will see a new Yahoo! logo gracing its front page. You know, "to get everyone warmed up."
Some folks are annoyed, some are calling it a brilliant marketing move, and others couldn't care less. But the answer to the question of why Yahoo! pumped up its rebranding announcement as if they were changing their focus from "making the world's daily habits inspiring and entertaining" to "polishing shoes at the airport" is easy: Because they can.
Very, and I mean very few brands have the clout or recognizability to make waves this big with a logo update.  Yahoo!'s logo news was prominently shared by almost every big media name: CNN, LA Times, USA Today, New York Times, Washington Post, etc … and they aren't the first to make news of rebrands. Just last month Apple's font change from Helvetica Neue Light to Helvetica Neue made similar press rounds.
Just prior to the big announcement, below is what the Google image results were for "yahoo logo." The red "X"s mark the 90 percent of outdated, hacked, or otherwise wrong versions: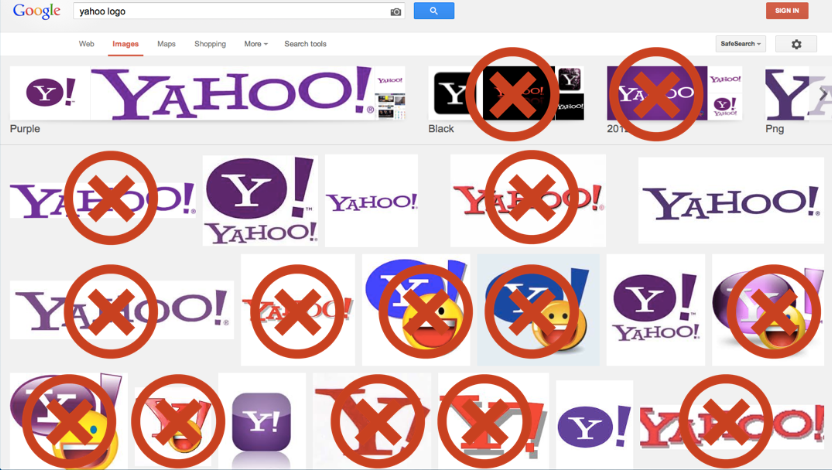 With 30 additional versions in the mix, this same search will be even more stunning by the time Yahoo! unveils its official new logo September 5th. We're genuinely intrigued about how Yahoo! will handle brand consistency with this unique situation, and we await the outcome with baited breath.
What do you think of Yahoo!'s rebranding campaign? Will it boost their brand, or is it money down the drain? (Rhyme Unintended. I swear.)
[ad_2]
Source link