[ad_1]
Hold onto your culottes because two more staples from the 90s are making a comeback: Original New York Seltzer and Clearly Canadian beverages. This announcement comes hot off the heels of the successful revival of sparkling water brand La Croix (aka: the secret ingredient in my grandma's white wine spritzer). What's next: Crystal Pepsi? Orbitz? Ecto Cooler? Fingers crossed for the Cooler.
In the two decades since Original New York Seltzer and Clearly Canadian went out of business, enthusiasm for the beverages hasn't waned. There are Facebook pages dedicated to bringing these brands back and Twitter is abuzz with the news of their resurgence. Fans were so impassioned one Facebook group dared to say Original New York Seltzers are "possibly the tastiest non-alcoholic beverages ever." Obviously they never tried Black Cherry Vanilla Coke when they had the chance.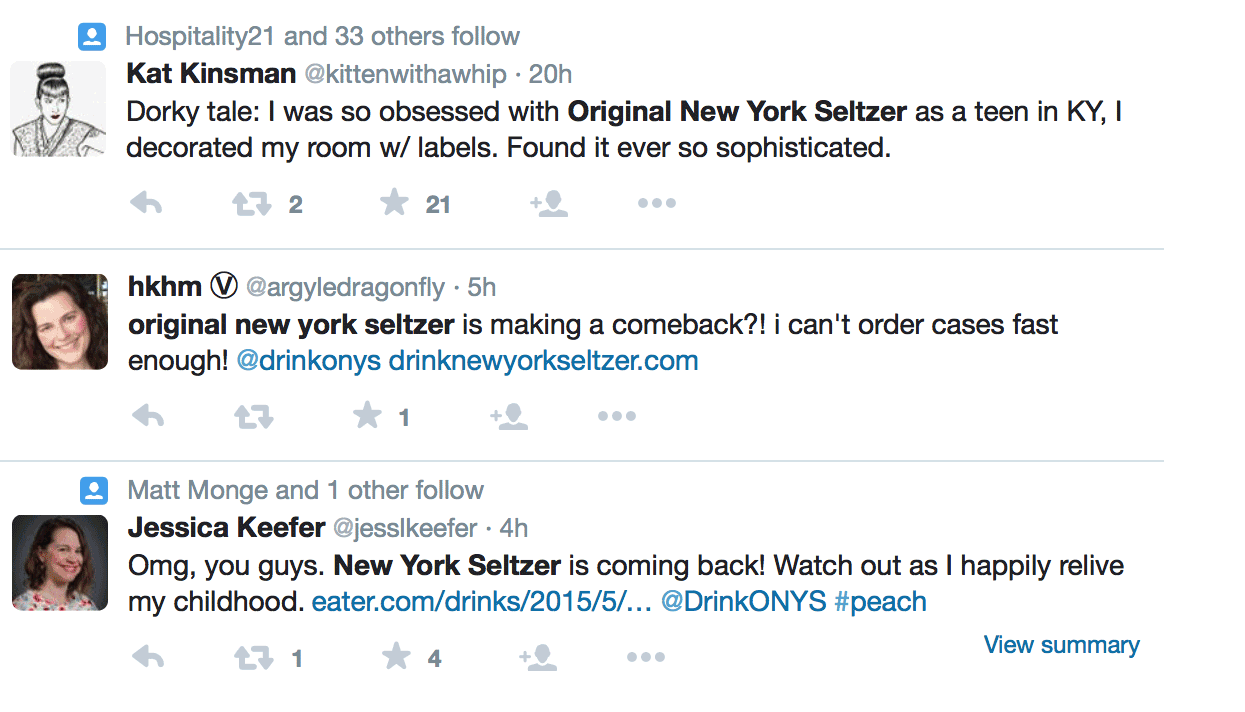 Before these companies folded, they were part of an anti-soda movement that included transparent soft drinks with natural(ish) flavors. Even though Original New York Seltzer wasn't so much of a sparkling water as it was a soft drink and Clearly Canadian was closer to soda than to actual water, these brands resonated with consumers looking for alternatives to traditional soft drinks. They were born out of the sodium backlash of the 80s and rode the "newness" of the 90s (remember how everything was NEW then?) until their eventual demise in the turn of the century (raise your hand if that just made you feel old).
Read: Suja Juice: How to Stand out in a Saturated Market
These brands were transparent before being transparent was cool. Their transparency was a sign of integrity and freedom and our 14-year old selves wanted a taste. Forget the sugar content–we could literally see through the bottle and that meant everything. If you didn't make the agonizing decision between vanilla cream soda Original New York Seltzer and wild cherry Clearly Canadian, then you weren't living.

But reviving a brand from the dead is tricky business: you need to appeal to the nostalgia of your old fan base while still attracting new customers who have never heard of your crazy clear soft drinks. Not to mention there's the whole issue of also addressing and fixing whatever caused the brand's demise in the first place.
Read: Heritage Branding: The Hidden Value of Nostalgia
But we are in an era of anti-corporate, anti-big everything and in my opinion, the timing for these brands couldn't be better. When Original New York Seltzer and Clearly Canadian burst onto the scene with wildly different packaging, over-the-top advertising and a refreshing perspective, these two little companies turned the industry upside down and gave Big Soda a run for their money. Here's to hoping they can do it again this time around.
[ad_2]
Source link