[ad_1]
Have you ever checked the clock at 5pm, only to realize you haven't actually gotten any real work done?
It's not like you haven't been busy — you've just spent all your time completing tedious tasks.
Digital communication has caused a major shift in the way we work — we're so busy tending to email, answering chat conversations, and fulfilling requests that we put our own work on the back burner. To help visualize how much time we actually waste at work, we created this handy infographic titled "The Modern Workday." This guide illustrates interesting statistics on how we divvy up our time between reading and responding to emails, collaborating with team members, and locating digital assets.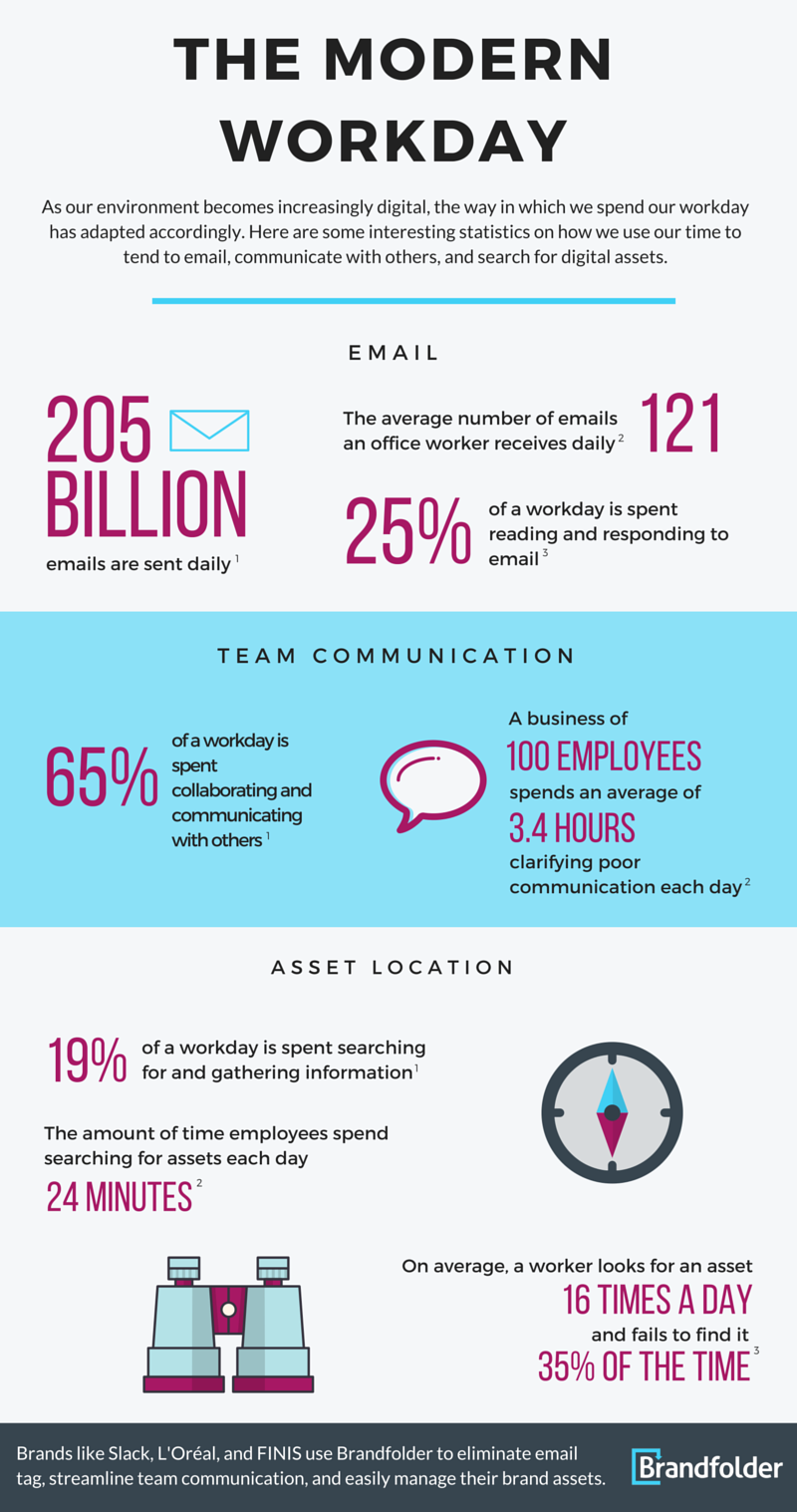 Surprisingly, a large portion of the modern workday is spent clarifying poor communication and searching for brand assets. What's even more frustrating is that these time-consuming efforts are often fruitless: after all that searching, we still aren't able to find what we need.
Read: Foolproof Ways to be More Independent (and Satisfied) at Work
Can you imagine how much more productive we'd all be, if these inefficiencies were non-existent? Luckily, there are a few easy ways to kick these time-wasting habits to the curb.
Wasting time glued to your inbox? Instead of reading messages as they come in, set aside an hour or so each day dedicated to answering your emails. This will allow you to concentrate on other tasks distraction-free.
Poor communication slowing your productivity down? Sit down with your team to figure out each person's communication style. Then, agree on which platforms should be used for distributing different types of information. For example, our team uses Slack to ask quick questions and share company highlights. More in-depth issues warrant in-person conversations, and email is largely reserved for external communication.
Having trouble quickly locating brand assets? A digital asset management platform could be the answer to your problems. DAM platforms like Brandfolder allow you to easily organize your brand assets, empowering both you and your team members to find what they need, when they need it.
Interested in learning more about how Brandfolder can help you achieve ultimate productivity? Get in touch by clicking the button below.
Infographic sources: Email: 1, 2, 3 Team communication: 1, 2 Asset location: 1, 2, 3
[ad_2]
Source link