[ad_1]
Smoked, savory, and sometimes a little sweet. It's time to celebrate everyone's favorite food — bacon. That's right. September third is International Bacon Day. Whether you love jalapeño-infused bacon, classic thick-cut bacon, or Kevin Bacon, this day has something tasty for you and so do we!
We've put together a Bacon Brandfolder for you, packed with recipes, inspiration, and bacon imagery that's so beautiful, it might just bring bacon-flavored tears to your eyes. We've also rounded up three bacon brands with enviable design and packaging below. So cook up a package or two of your go-to bacon, and prepare to be inspired to greatness in your next meal or marketing campaign.
Hungry already? Check out our Bacon Brandfolder for recipes, inspiration, and a whole lot of awesome.
Tender Belly Bacon
Bacon was never not cool, but Tender Belly broke it out of your grocer's fluorescent-lit meat aisle and made bacon fun again. This Colorado-based company sources meat from co-op farmers in Iowa, Missouri, and Colorado. They're passionate about treating their animals humanely, procuring their meats in environmentally conscious ways, and staying invested in their communities.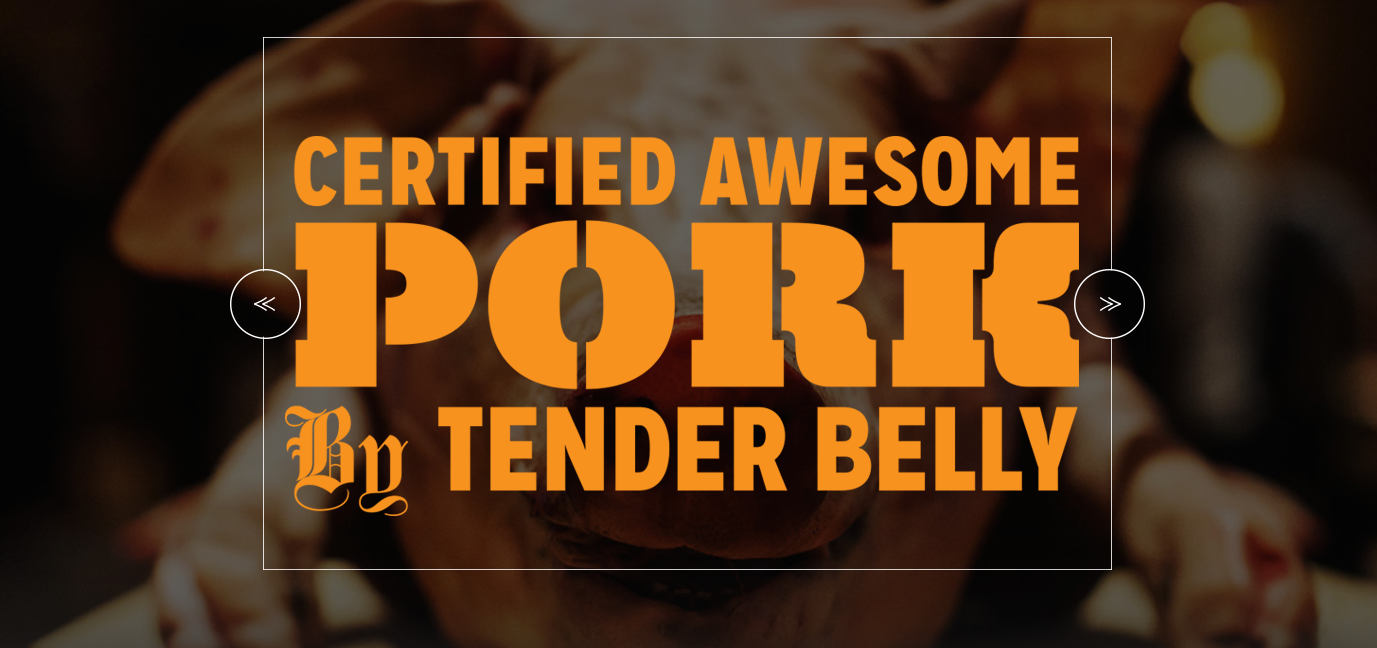 The result is a brand that is as renowned for its delicious meat as it is for its local charity work. In a packed market, Tender Belly has found that a good product, a strong story, and a measured community presence can go a long way to set their brand apart. How can you distinguish your brand's story?
EPIC
EPIC is an Austin-born company challenging you to think a little differently about your snacks. Another brand that weaves a strong story about animal welfare and biodynamic ranch practices, that story is carried through with beautiful packaging design.
Their natural color palette, simple logo, and accessible artwork sets them apart on the shelves with other brightly packaged snack bars and jerky. We also love how they incorporate consumer feedback into their marketing efforts. An example? On the landing page for their popular bacon bar, they include a callout to a customer email:
"To date, our favorite email received from an EPIC consumer simply and profoundly stated "Indulge bacon lust freely, know that the science is catching up, the media lags behind, and our ancestors most likely got it right."
They finish the highlight off by encouraging the rest of their audience to make #BACONLUST famous. Could you incorporate more consumer advocacy into your brand marketing?
Applegate Farms
Applegate is one of the larger brands on our list, but it's also one of the most media savvy. We especially love how involved they are with their consumers on Twitter. Tweet about Applegate, and they will most likely retweet, like, or comment back — a great way for a brand to attract and keep followers.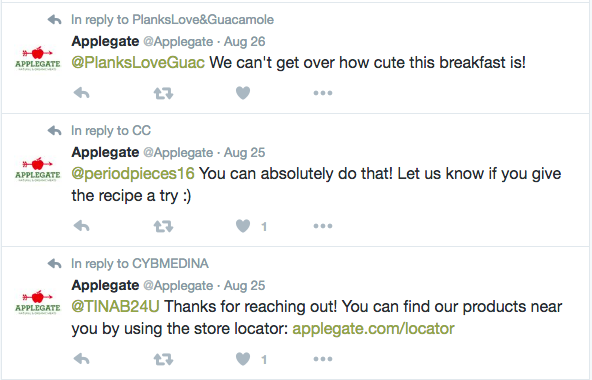 They also don't take themselves too seriously. You'll find recipes, coupons, and some well-placed humor on their social media channels, including this recipe (below) for a Bacon Bloody Mary with a clever hashtag and CTA. Is humor right for your brand? It's important to consider whether or not it fits within your brand strategy. But interacting with your consumer and making them feel heard? That should be a pillar of every brand.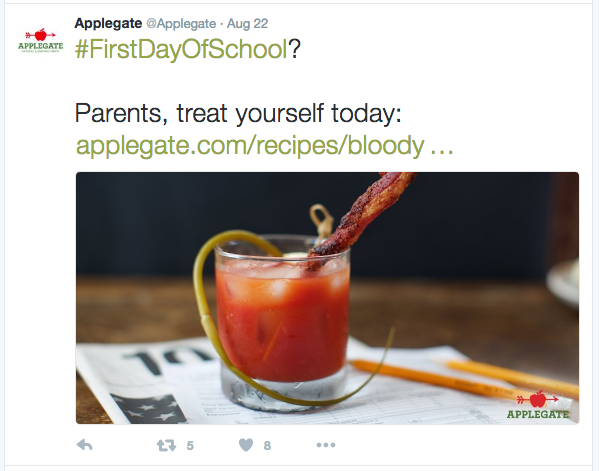 Want more bacon in your day? Obviously. Check out our bacon Brandfolder here.
[ad_2]
Source link