[ad_1]
hidden text!
For creatives, thinking outside of the box, pushing the boundaries, and experimenting artistically are the ingredients for inspired work.
But here's the thing about daily life for creatives designing for marketers: it's repetitive. From email campaigns and social cuts to product sheets and website collateral, big picture creative projects get sidelined to keep up with one-off asset requests that—when you really get down to it—start looking pretty similar.
Reproducing variations of the same basic designs can feel tedious and ineffective. We get it.
Our templating feature allows creatives to develop brand collateral templates that empower non-creatives to scale their own campaigns, without inundating designers with requests or sacrificing brand consistency.
Whether it's a brochure that requires slight geographic tweaks, or a business card that only varies by employee name and phone number, templating enables designers to designate editable asset text and image fields, and lock the brand elements they want to standardize and protect. Their cross-departmental colleagues can handle the rest.
Putting templating to the test
To showcase the magic of templating, we decided Valentine's Day's controversial reception would be the perfect opportunity. Just check out the video above—after polling the office, it was clear that everyone's outlook on V-Day is different. Some love it, some don't give it much thought, others deem it their least favorite holiday.
So, we surprised them each a puppy to shift the mood (not all heroes wear capes), snapped some photos, and developed a Valentine's Day card template in Brandfolder that our employees could use to send whatever message they'd like. We even shared the template with our community to see what they could come up with.
Our favorite community creation? Behold: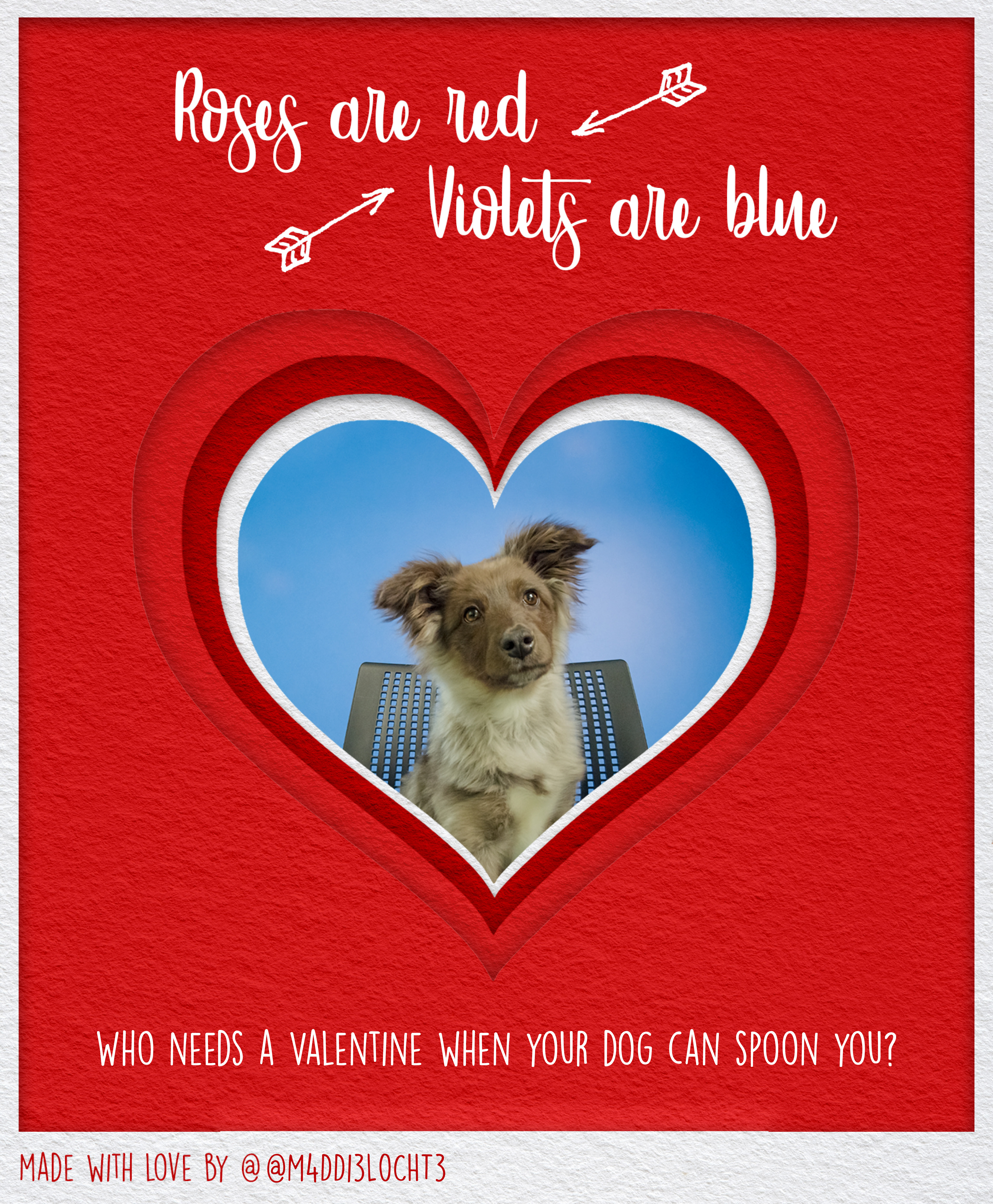 Shout out to Maddie Lochte, Designer at Ring, for this very cute submission.
Beyond marketing campaigns
We used templating to showcase just how simple a marketing campaign can be, but it's important to emphasize all of the ways this tool can transform team efficiency.
Other proven use cases for templating:
Franchises create templates for menus & regional marketing collateral
Tech & manufacturing companies use it to build sales templates for prospect-specific one-pagers, product tech sheets, customizable marketing documents, and more
Retail brands can develop customized signage for local stores
Professional services use templating for letterheads, and professional documents with customer-specific messaging
Anyone with large sales teams can create easily-modified business cards
All companies with high-functioning marketing teams can reproduce, with ease, quick and customizable digital ads
With templating, brands can eliminate brand inconsistency across departments and regional offices, all the way down to their individual marketing campaigns. Plus, creatives save time on constant asset requests by putting the power in the hands of their coworkers to personalize and localize brand collateral.
This boosts project scalability and team efficiency, and gives creative departments more time to focus on the big picture initiatives they actually want to develop—all while maximizing brand impact.
[ad_2]
Source link